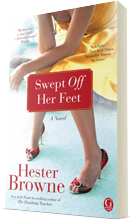 As a favor to friends of the family, romantic antique-junkie Evie jumps at the chance to appraise a Scottish castle full of artifacts and heirlooms. What could be more thrilling than roaming the halls of Kettlesheer and uncovering the McAndrews' family treasures—and dusty secrets? But crossing paths with moody heir Robert McAndrew has Evie assessing what she wants the most . . . and at an upcoming candlelight gala, a traditional dance will set her heart reeling.
I finished Swept off her Feet by Hester Browne. I loved it ! Her books are very clean. It was a sweet story set in Scotland with a bit of romance. I totally recommend Hester Browne's books.
Annajane Hudgens truly believes she is over her ex-husband, Mason Bayless. They've been divorced for four years, she's engaged to a new, terrific guy, and she's ready to leave the small town where she and Mason had so much history. She is so over Mason that she has absolutely no problem attending his wedding to the beautiful, intelligent, delightful Celia. But when fate intervenes and the wedding is called to a halt as the bride is literally walking down the aisle, Annajane begins to realize that maybe she's been given a second chance. Maybe everything happens for a reason. And maybe, just maybe, she wants Mason back. But there are secrets afoot in this small southern town. On the peaceful surface of Hideaway Lake, Annajane discovers that the past is never really gone. Even if there are people determined to keep Annajane from getting what she wants, happiness might be hers for the taking, and the life she once had with Mason in this sleepy lake town might be in her future.
Next I read Spring Fever by Mary Kay Andrews. I had been waiting for this book for so long that I read many in between. As it turns out, I finally noticed that this one was one of very few from this author listed as a Romance (at my library at least) yet they are all about the same in that sense. All this time and I hadn't been able to find it because it was in a different section! Even when I had a librarian try to help me many months ago when it was listed as being on the shelf but we couldn't find it. Duh.
This one started off slow but as of last night, I couldn't put it down. The last time I looked at the clock it was around 4am. Needless to day I took a long nap this afternoon to make up for it and I'm off to the library in a few minutes to fine another book.
This book was mostly clean. Slightly more graphic when describing the foreplay of one scene and a little bit of language.