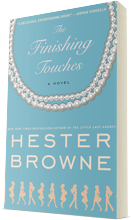 Twenty-seven years ago, an infant turned up on the doorstep of London's esteemed Phillimore Academy for Young Ladies. Now, Betsy Phillimore returns to the place where she was lovingly raised by Lord and Lady Phillimore, only to find the Academy in disrepair and Lord P. desperate to save his legacy. Enter Betsy with a savvy business plan to replace dusty protocol with the essentials girls need today:
cell phone etiquette, eating sushi properly, handling credit cards, choosing the perfect little black dress, negotiating a pre-nup,
and other lessons in independent living. But returning to London also means crossing paths with her sexy girlhood crush . . . and stirring up the mystery of who her parents are and why they abandoned her. Will the puzzle pieces of her past fall into place while Betsy races to save the only home she's ever known?
I was rea
ding Hester Browne's novels
until I ran out of available books at the library. I read all of the
Little Lady Big Apple
series and moved on to
Finishing Touches
(which I took on the cruise but hardly read). I have loved them all! Unfortunately the next book in line (I read in order of publishing) had been checked out.
Marian Caldwell is a thirty-six year old television producer, living her dream in New York City. With a fulfilling career and satisfying relationship, she has convinced everyone, including herself, that her life is just as she wants it to be. But one night, Marian answers a knock on the door . . . only to find Kirby Rose, an eighteen-year-old girl with a key to a past that Marian thought she had sealed off forever. From the moment Kirby appears on her doorstep, Marian's perfectly constructed world—and her very identity—will be shaken to its core, resurrecting ghosts and memories of a passionate young love affair that threaten everything that has come to define her.
For the precocious and determined Kirby, the encounter will spur a process of discovery that ushers her across the threshold of adulthood, forcing her to re-evaluate her family and future in a wise and bittersweet light. As the two women embark on a journey to find the one thing missing in their lives, each will come to recognize that where we belong is often where we least expect to find ourselves—a place that we may have willed ourselves to forget, but that the heart remembers forever.
I moved on to another author
where I had previously had the same problem. I was waiting for the last book to become available and it
was worth the wait. I read it in like 3 days which is quick for me.
After checking back on the shelves for all of the books I'm waiting for (and I'm happy to wait because I find new authors in the process) it was back to the kiosk for another search. I look up one or two of the books I previously loved and click on the topic to find related ones. Then I scan through the list and read the synopsis until I find some that I'd be interested in trying out. Next I head for the stacks to look at the actual book and make further judgments from there. For instance, if there is a "LDS" or a dove on the spine it doesn't make the cut.
So that's where I am with my reading. All caught up. Once I finish this one I'll look for the stranded books as usual and then come back to this last author as a back up if she makes the cut. Another author on the list is Mary Kay Andrews. I have been waiting for Spring Fever and as it turns out, she has written another one (Ladies' Night) while I was waiting! Awesome!